Southwest Michigan's Premier Tour Company
A unique way to experience the wine/brew trail
All-inclusive Wine tours include Transportation, Drinks & Lunch.
SUNDAY SPECIAL through October-  Get ready to spend the Sunday with us as we whisk you away to two of our our favorite places.  Hickory Creek Winery and The Round Barn Winery & Estate.  Your day will begins at 12:00 pm at Hickory Creek where you will enjoy a guided tasting in the barrel room with one of their experienced wine consultants (gratutiy included).  When finished, we'll move to the Round Barn Winery & Estate for an afternoon of fun and live music.  Each guest will receive their entry paid into the estate along with a $40.00 gift card to be used for food or drinks.  We will also provided you with lawn chairs and blankets.  
We will depart the Estate at 5:00 pm.
We have two tours to choose from this year that are all- inclusive.  The Cadillac Escalade or the Go Big or Go Home tour.  
Included in these tours are 3 stops, tasting fees/drinks and lunch.  Each stop on the tour is known for their exceptional wines and their friendly & warm hospitality.  Our lunch stop this year is at The Local, a small cafe' in the heart of downtown Baroda.  Lunch is your choice of an entree along with a side and a beverage. Tax and tip are also included.  What's not included- The gratuity to the wine consultants & the driver.
Cadillac tour- seats up to 5 guests in the same party. 
Go Big or Go Home tour for groups 6-12 guests in the same party
See below details and pricing on both tours as well as our private shuttle rental.  
 Due to Covid-19, please note that some wineries are not offering reservations or tastings with consultants at this time .  We will try our best to visit the places that are opting to keep these in place, but space and times are limited as is the number of guests they will allow in one group.  In those incidences that we cannot secure a reservation with a tasting, we will offer you bottles to share among the group.
Dablon Vineyards is not allowing our groups of any kind on their property-  Please do not ask to stop there as they will not let you in.  
Wine tours include transportation, tasting fees & lunch.
Slower paced and a little more laid back is what you can expect this year on a Grape and Grain Wine tour. Each stop we visit is known for their exceptional wines and their friendly & warm hospitality. After the guided tastings you'll have the opportunity to take pictures, make purchases or explore the vineyards. Our lunch stop will be with our newest partner on the wine trail, The Local. Here you can choose anything off their breakfast or lunch menu. Don't forget to include one of their delicious smoothies or specialty coffees.
Whether you are a couple celebrating an anniversary or a small group wanting a more personalized tour, you'll be riding in style in either one of our luxury vehicles. Seats up to 5 passengers   
We pick up from any hotel, Airbnb, or home within 20 miles of Baroda.  Tour includes transportation, a knowledgeable & friendly tour guide, 3 wineries, tasting fees, lunch, and complimentary bottled water.   Prices are as follows:
Party of 2-  $425.  
Party of 3- $555.
Party of 4- $740.
Party of 5- $925
Saturday & Sundays for groups of 6-12 in the same party.  
Pricing:  $185.00 a person
An all- inclusive wine tour for larger groups between 6 and 12 guests. Transportation included from any of our hotel, Airbnb partners, or your local residence. 
We will visit 3 wineries, include the food and drinks as well as a pre-set itinerary. Reservations are made ahead of time so no changes to the schedule can be made. The first reservation is at 11:00 am EST and the return time will be between 4:00 & 5:00 pm.  A few days before the tour, you will receive an email with the tour itinerary and driver's information.  
All buses have bottled water and hand sanitizer available for our guests.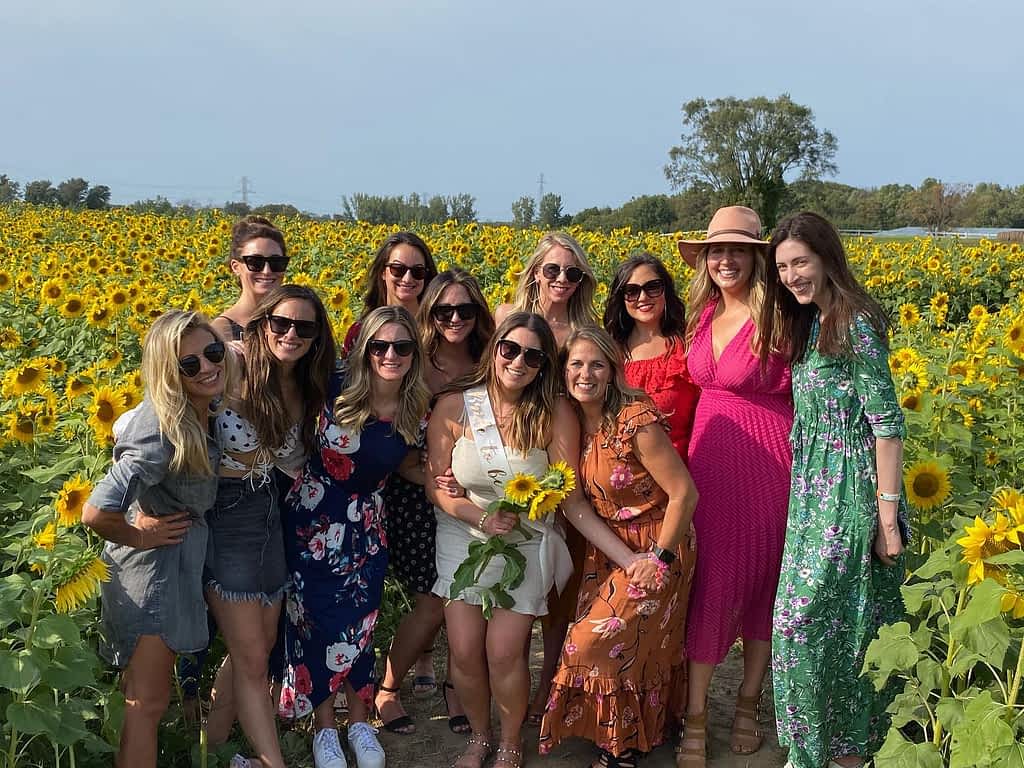 Private Shuttle Rental- 14 passengers
Rent the 14 passenger bus for 6 hours for $800.00 and we will pick up at your location within 20 miles of Baroda (extra charges may apply if outside the coverage
area).  
Don't know where to start or how to plan your trip to Southwestern Michigan?  Below are some guidelines and helpful tips to follow that will ease you through the booking process and planning your day.  We've even included some links to our favorite places which can help you in your decision process as well. 
1. When booking a shuttle the first thing to do is check our calendar and see if the day you want is available.  Weekdays tend to be less busier than the weekends.    
2. Choose your pick up time.  Some wineries open at 10:00 am and some don't open until 12:00 pm, so remember to check their hours of operation, especially on Sundays when places usually have a later start time.  Also, remember that we operate on Eastern Standard Time.   
3.  Where are we picking you up at?  We will come to your personal residence, hotel or AirBNB.  We also have numerous partners that offer discounts on shuttle rentals if you stay at one of their properties.  Check out our Partners via the link on our menu bar.  Pick up is 20 miles from our location in Baroda.  If you are out of this coverage area, Please do not book online, give us a call and we will let you know what the additional cost will be based on your address.   If you go over your rental time, we will charge the card on file $30.00 for every 15 minutes. 
4. Larger groups (more than 6) will need a reservation for wine tasting. Scheduled tastings usually take about 45 minutes.  Each winery is unique and have very different tastings/flights options to choose from.  Some may offer a structured tasking with a wine consultant that will help you choose what you want to taste and others may already have pre-selected flights to choose from like a sweet wine flight or a dry red flight.  Tastings can range from 4-7 samples and pours are usually 2-3 ounces per glass.  Flight prices vary as well and can range any where from $8 – $25 per flight.   
5. When booking a shuttle, remember to book early.  We tend to sell out of from April-October, so the sooner you book the better.   
Here are is a list of some of our partners:  Links to booking tasting reservations are listed on their website.
Round Barn Winery & Estate- https://roundbarn.com/locations/round-barn-estate/
Hickory Creek Winery- https://www.hickorycreekwinery.com/
St Julian Winery- https://www.stjulian.com
Tabor Hill Winery- https://taborhill.com/
Free Run Cellars- https://freeruncellars.com/
Lemon Creek Winery-  https://www.lemoncreekwinery.com/
Chill Hill Winery –https://chillhill.net/
Lazy Ballerina – https://www.lazyballerinawinery.
*Dablon Winery will not allow tour buses on to their property so please do not book a reservation with them as they will not allow us to come in.  
Food, Drinks and Gratuity are not included in this price.  Guests are responsible for making their own reservation and supplying Grape and Grain Tours with a copy of your itinerary.  Coolers are not allowed but you may bring snacks onboard.  Also, you may decorate the bus but glitter and confetti are banned.  Guests will be responsible for cleaning up after themselves.  We reserve the right to charge a cleaning fee of $150.00 to the credit card on file if you damage the interior or exterior of the vehicle caused by food or beverage spills on fabric or other surfaces, or minor bodily fluid messes (vomit),0